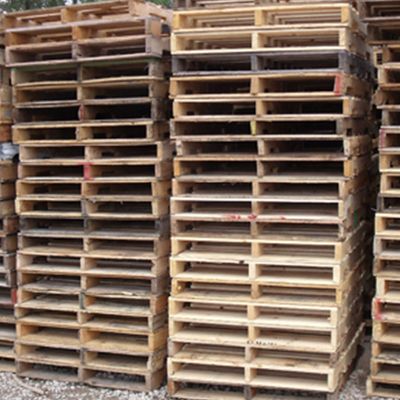 Pallets
Pallets are indispensable for moving and storing goods in warehouses. They are specifically designed to be moved by forklifts. Pallets help protect your goods and keep them off the floors, ensuring fewer pests and dirt get to them. They hold the weight of your goods, and they help keep your warehouse organized. That being said, pallets do wear out from their frequent use, requiring them to be recycled.
Rocky Mountain Battery Services offers pallet recycling services. Located in North Fort Collins, we serve all of Northern Colorado. Currently, we recondition four-way wood pallets for shipping (40x48). We provide and sell pallets to commercial accounts, prices vary depending on the grade of the pallet. We also sell to the general public. Because pallets are so commonplace, many people love to use them in their home decor or outdoor living space. Pallets are great to plant in, to make tables and shelves from, and to use as a shoe organizer. Truly, pallets have many uses, some of which are yet to be recognized.
We've made the pallet recycling process easy. Simply bring in your used pallets and drop them off. We can help, too. If you are looking for our refurbished pallets, let one of our customer service associates know so that they can direct you and help you choose. We can also answer any questions you may have. If you need to recycle your pallets or purchase refurbished ones, give us a call today.